Banking sector Q1FY21 earnings preview: Stable asset quality, NIM contraction for most banks likely, says report

The COVID-19 led disruptions coupled with an already weak credit demand is likely to impact the asset growth of most of the banks and non-banking financial companies along with lower collections in the first quarter of fiscal 2021. According to HDFC Securities Institutional Research, the standstill classification benefit or moratorium would have optically limited slippages and gross non-performing assets (GNPA). However, earnings are expected to dent due to persisting elevated provisions for some lenders as they may have chosen to fortify their balance sheets. More here
US budget deficit hits all-time high of $864 billion in June
The federal government incurred the biggest monthly budget deficit in history in June as spending on programs to combat the coronavirus recession exploded while millions of job losses cut into tax revenues. The Treasury Department reported Monday that the deficit hit USD 864 billion last month, an amount of red ink that surpasses most annual deficits in the nation's history and is above the previous monthly deficit record of USD 738 billion in April. That amount was also tied to the trillions of dollars Congress has provided to cushion the impact of the widespread shutdowns that occurred in an effort to limit the spread of the viral pandemic. For the first nine months of this budget year, which began Oct. 1, the deficit totals USD 2.74 trillion, also a record for that period. That puts the country well on the way to hitting the USD 3.7 trillion deficit for the whole year that has been forecast by the Congressional Budget Office. More here
Buzzing | Yes Bank's hurdle continues post FPO floor price announcement, stock down 8%
Yes Bank's shares slumped for the third consecutive day on Tuesday after the private lender fixed floor price of its proposed follow-on public offer (FPO) at Rs 12 per share and a cap of Rs 13 per unit. The stock fell as much as 8 percent to Rs 20.30 apiece on the NSE. In the last 4 trading sessions, it has slumped 24 percent to current low levels, while in the last 6 months, the shares have plunged over 50 percent. On Friday, the company announced that its Capital Raising Committee approved the Floor Price for the Rs 15,000 crore FPO at Rs 12 per equity share with a cap price of Rs 13 per share. This is the largest FPO by any entity till now, and will suffice the bank's growth requirements for the next two years, said CEO Prashant Kumar.
Rupee opens | Rupee opened at the lowest level against the US dollar since July 2. The rupee opened 14 paise lower at 75.35 per dollar against the previous close of 75.19.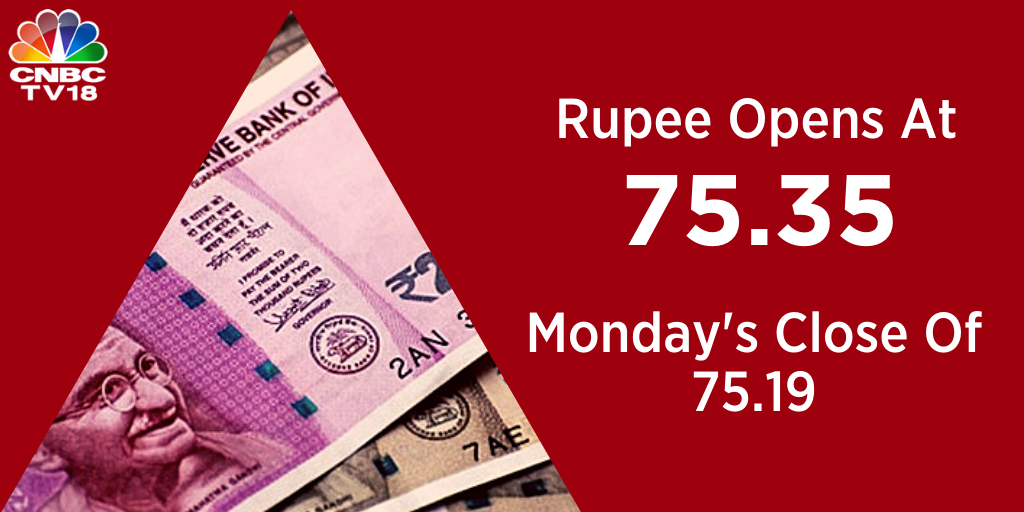 Market Watch: Shubham Agarwal of Quantsapp Advisory on his top stock picks for today
"First trade is a buy on Bharti Airtel and it has been one of the outperformers in the past. Recently it has been consolidating for quite some time, but some interesting data there is that Call writers at the strike of Rs 580 are now getting trapped and there is a good possibility that we will see the stock moving up higher because of the short covering in this Call writing that has happened. So, 600 strike Call option can be bought, the target for that will be Rs 25 and the stop loss can be maintained at Rs 14."
"Second call is a sell call on ONGC. ONGC for the last 3 days we have seen in the derivative data that shorts are getting built and a similar kind of an option data there as well where Rs 80 strike Put options are now trapped and the stock is quoting below that. So, there is a good possibility that we might see a breakdown there. So, 80 strike Put option can be bought for a target of Rs 6 with the stop loss at Rs 2.5."
"Lastly a sell call on Ashok Leyland. Within the auto pack Ashok Leyland has been one of the underperformers and now derivative data is indicating that there are shorts that are coming in the system. So, there is again a possibility of the stock seeing some more lower levels. So, 50 strike Put option can be bought for a target of Rs 4 with a stop loss at Rs 1.5."
Opening Bell: Sensex, Nifty open lower dragged by financials, IT stocks
The Indian market opened lower on Tuesday following mixed trade in Asian peers after a volatile day in US markets. On the domestic indices, banks led the losses. Index heavyweights like HDFC twins, RIL, ICICI Bank, and Bajaj Finance contributed the most to the losses. At 9:18 am, the Sensex was trading 229 points lower at 36,464 while the Nifty lost 52 points at 10,751. The sentiment was also weighed amid persistent concerns over the record number of new coronavirus cases worldwide. 
Moody's downgrades Motherson Sumi's rating outlook to negative

Moody's Investors Service on Monday downgraded the rating outlook of auto component maker Motherson Sumi Systems to negative on account of expected weak financial performance in ongoing fiscal due to the coronavirus pandemic. Moody's changed the outlook on the rating to 'negative' from 'ratings under review', the rating agency said in a statement. This rating action concludes the review for downgrade that was initiated on March 27, 2020, it added. Moody's, however, confirmed Ba1 corporate family rating (CFR) for the auto component firm. 
Global Update: Asian markets dip as virus and Sino-US tensions flare
Asian stock markets slipped on Tuesday, oil sagged and a safety bid supported the dollar as simmering Sino-US tensions and fresh coronavirus restrictions in California kept a lid on investor optimism as earnings season gets underway. MSCI's broadest index of Asia-Pacific shares outside Japan fell 1.2 percent. Japan's Nikkei retreated from a one-month high touched on Monday, dropping 0.8 percent. A firm dollar put pressure on the Aussie and kiwi. More here
Yes Bank CEO says FPO will take care of capital needs for 2 years

Private sector lender Yes Bank's Rs 15,000 crore fundraising will take care of the bank's capital requirements for the next two years, CEO Prashant Kumar said Monday. In an interview with CNBC-TV18, Kumar said that the capital raised from the follow-on public offering, or FPO, would not be needed for making any additional provision for its legacy book. "The capital is not for clean up for sure, because we have already cleaned up our book and made a provision up to 74 percent both on loan as well as on the investment side," Kumar told CNBC-TV18. "Rs 15,000 crore will take our CET-1 [common equity tier-1] ratio from 6.3 percent to 13 percent. It would also take care of our growth requirements for at least next two years. If there is any incremental slippage, it would be mostly taken care by our PPOP [pre provision operating profit]. More here
Rossari Biotech IPO subscribed 60% on first day of bidding
The initial public offer of specialty chemicals manufacturer Rossari Biotech was subscribed 60 percent on the first day of bidding on Monday. The IPO received bids for 49,30,030 shares against the total issue size of 81,73,530 shares. The initial public offer comprises a fresh issue of Rs 50 crore and an offer for sale of over 1 crore equity shares including anchor portion of 35,02,940 equity shares. The price range for the offer has been fixed at Rs 423-425 per share. At the upper end of price band, the IPO size is about Rs 496 crore. Qualified Institutional Buyer (QIB) portion was subscribed 41 percent, non-institutional investors 11 percent and retail investors 92 percent. The company has raised Rs 149 crore from anchor investors.
First up, here is quick catchup of what happened in the markets on Monday
The Indian indices ended higher after a volatile session on Monday led by gains in IT, FMCG stocks and index heavyweight RIL after the company received 13th investment from Qualcomm towards Jio Platforms. However, heavyweight financials like HDFC twins, ICICI Bank, Bajaj Finance, and Kotak Bank capped some gains during the day. The Sensex ended 99 points higher at 36,694 while the Nifty rose 35 points to settle at 10,803.
Welcome to CNBC-TV18's Market Live Blog

Good morning, readers! This is the market's desk of CNBC-TV18. Welcome to our market blog, where we provide rolling live news coverage of the latest events in the stock market, business and economy. We will also get you instant reactions and guests from our stellar lineup of TV guests and in-house editors, researchers, and reporters. If you are an investor, here is wishing you a great trading day. Good luck!